College Tour
College tours are made to display the college scenery as well as the cultural atmosphere.
To make virtual tour of a College, you can use Easypano Panoweaver and Tourweaver. Panoweaver helps to stitch any photos (fisheye photos and normal photos) into 360 degree panoramas, and Tourweaver can help to create interactive college tours with multiple hotspots, maps, compasses, audios and url links.
To make a college tour, take the following steps:.
Use Panoweaver:
Use Tourweaver
Import the panoramas in Tourweaver
Add components like hotspots and buttons to the tour
Press Publish
Easypano software Panoweaver and Tourweaver have helped a lot of university students and educational institutes in creating college tours.
To use Easypano Studio which has Panoweaver and Tourweaver in one installer makes it much easier to build virtual tours.
Click the following to see a college tour sample: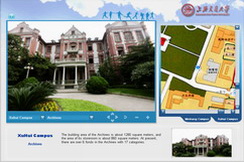 Download full featured trial version!