Canon 5d & Sigma 8
Was considering a Canon 5d but probably not now. Been doing some looking at the Canon 5d and using our Sigma 8 and here is what I have learned.

Sensor
5d 35.9 x 23.9 mm
20d 22 x 15 mm
Max Raw pixel dimensions = total pixels
5d 4368 x 2912 = 12,719, 616
20d 3504 x 2336 = 8, 185,344

In Photoshop I overlayed a real 20d/Sigma8 fisheye image on a 5d full sized 4368 x 2912 canvas [ resized for forum comment] but you will get the idea.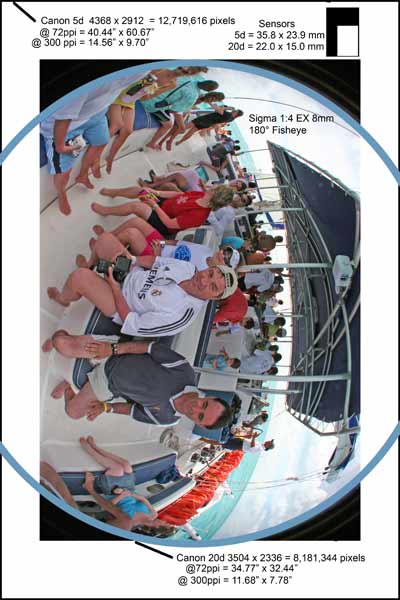 But this somewhat interesting. Next step is to actually put the Sigma 8 on a 5d and take a real image test.
---
/s/
Dave
Forum Moderator for
EasyPano - Panoweaver
Pano2VR

Visit 360texas.com