Tokina 10-17 full frame Fisheye
I recently tried using a Canon 5d and Tokina 10-17@10mm 180 diagonal Fisheye lens.

We were thinking that this Tokina lens might be similar as the Nikkor 10.5 lens that also has a 180 degree diagonal fisheye.

Stitching results with 6 images +1T and 1B were not good if not impossible. Just thought I should alert the VR community.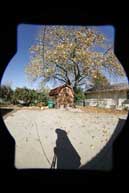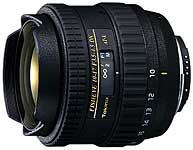 The lens view (left ) and lens (right) are both in Portrait orientation. The lens black masking and lens sunshade shape don't seem to correspond. Ahhh never mind just cut the lens hood off and be done with it.
Unfortunately, its not my lens (now on its way to the UK). However, my friend who is buying it.. has already suggested the cut off... but they the 350d and not the full frame Canon 5d camera.
---
/s/
Dave
Forum Moderator for
EasyPano - Panoweaver
Pano2VR

Visit 360texas.com