How to read lens MTF chart
There has been some discussion about the quality issues of the Sigma 8mm f4 and f3.5 fisheye lens. One of the ways to determine the lens performance is to evaluate its MTF [Modular Transference Function] chart. Any lens manufacturer will at some point during its design will subject it to laboratory testing. They will generate an MTF chart. Canon does it. Nikon does it [on the Japanese site]. And now Sigma has started putting it on their website.
So what will an MTF chart do for us ? It will help us determine if the hunk of glass we are holding in our hands will give us those beautiful sharp crisp images that we need. The MTF chart is objective approach to determine if the lens will produce great contrast and sharp qualities. An MTF chart should be available for all their lens types not just a fisheye lens we see below.
The MTF chart essentially shows us of all the light that enters the front end of the lens how much and what quality makes it to the back end where it is registered on your cameras sensor.
The chart and lens (f4) is layed out below. Left side vertical scale is on the 0 center axis of the lens and it is measured from 0.0 to 1.0.
0.8 to 1.0 Excellent
0.5 to 0.8 is good lens performance.
0.50 and below is poor lens performance.
PLEASE DISREGARD the rating labels I wrote on the chart.
The bottom horizontal scale starts at 0 -> 5, 10, 15 and 20. This is the horizontal lens axis from lens center to the far right side of the lens edge rim.
The test shows how many lines per millimeter the human eye can determine along this horizontal axis.
Red solid line is Contrast at 15 lines per millimeter.
Red dotted is Contrast 30 lines per millimeter.
Green solid line is Sharpness at 15 lines per millimeter
Green dotted is Sharpness 30 lines per millimeter
With some lab tests in your hand you can now go into a camera shop and feel comfortable that you KNOW that the lens you are about to buy WILL be sharp and produce those amazingly crisp panoramas.
Compare the solid green sharpness curve at 15 lines per millimeter between the F3.5 and F4.0.
I do not think there is any doubt that the Sigma 8 F3.5 is a sharper lens. So I called my favorite local camera shop and ordered the F3.5 lens. He did call back and cheerfully explained that it is now back ordered until middle of January 2007. Thats ok.. thats only 30 days from now. We do not leave for our Cancun project until 15 February.
By the way.. the F3.5 like the F.4.0 will fit the Agnos RingTS8 pan head.

NOW please, would someone go and find the MTF for the Nikkor 10.5 and post it here on the forum ?
Source information
Sigmaphoto.com/ Lenses
http://www.sigmaphoto.com/lenses/lenses_all_details.asp?id=3319&navigator=4
Luminous-Landscape - MTF Explained
http://luminous-landscape.com/tutorials/understanding-series/understanding-mtf.shtml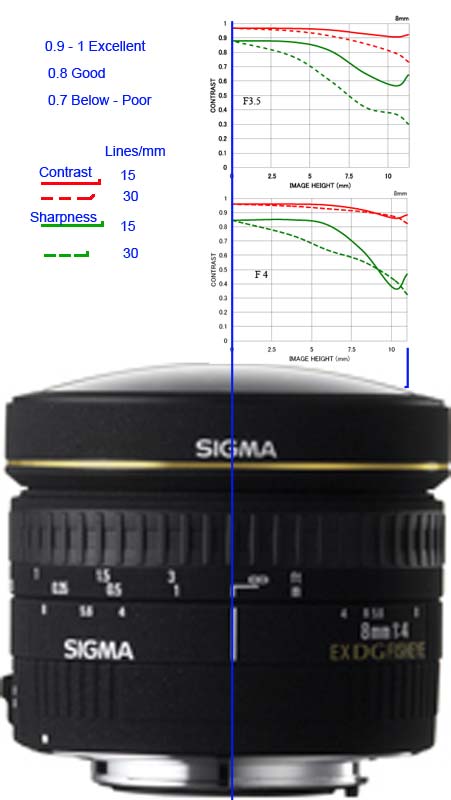 ---
/s/
Dave
Forum Moderator for
EasyPano - Panoweaver
Pano2VR

Visit 360texas.com