It will be that I am missed the alignment of the elements of imgm or configurations of the program? Necessary to change something in its configurations standards? Configurations in camera? HELP ME please!
In this test of pano that I made as I correct the lack of the ceiling and soil?
http://www.calibred.com/testep/pano.jpg
---
Quote: Originally posted by eudanck on September-12-2007

---

Excuse my
ignorance but ... what is ? nadir, zenith and NP ?



---
Nadir is Floor/Ground/Bottom
Zenith is Sky/Ceiling/Up
NP = Nodal Point (this is NOT the rotation point as has been falsely reported for many years)
NPP = No Parallax Point
Regards, Smooth
---
It appears he needs to remove the lens cap. Looking at the single images... I can see ridge rings out at the end of the photo.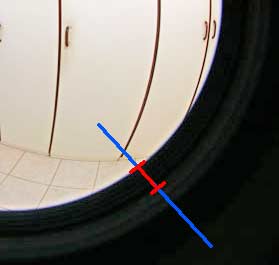 These ridge rings are on the inside of the lens cap ring when you remove the flat cap disk.
This is a common issue.. so I made these photos.

---
/s/
Dave
Forum Moderator for
EasyPano - Panoweaver
Pano2VR

Visit 360texas.com