Ok, thats what I like 'constructive comments'.
IE 7 Vista ultimate, 6 mbps aDSL.
Looked at your panoramas. All down loaded in less than 20 seconds. Page loading should be 18 seconds or less other wise your visitor will bolt to find a faster page. Your splash hotel sign helps keep the visitor occupied while panoramas are downloading in background.
Issues
Full screen for the most part looks ok except for noise pixels shadows up around the ceiling/wall lines. Full screen can see small stitching issues hallway lift lobby. Images generally underexposed (read not well lighted) when viewed with a color calibrated 24" Samsung LCD monitor.
Panoramas are by definition wider than they are high. A square viewing area give us the general feeling of viewing through a key hole. I would double the current pano viewing window width. Remember, you are showing the clients product. So give them a great wide view where they can see it.
Page layout should have TW automatically center in the browser window. So matter what monitor is used.. TW is parked in the middle of the monitor screen left to right. Suggest designing around a 900 pixel wide work area. That should fit in side older 15" monitors of 1024 wide x 768 high. 22" wide screen monitors are 1680 w x 1050 h. 24" wide screens are 1920 w x 1200 high.
What would I charge for 10 panoramas ? Depends on the client. Example
Hotels:
100 rooms at 80% annual occupancy rate. Means
80 rooms are revenue generating at $100/ or $8,000 night.
20 rooms at $100 = $2,000 loss each night.
By taking panoramas you can improve the occupancy rate by only 5 % to 85% it means income is increased to $8,500. per night.
Extended logic - Panorama usually last for 5 years or until property is remodeled.
Year 1
With Panos $8500 x 365 = $3,102,500.
No pano's $8,000 x 365 days = 2,920,000
increase $185,000 year 1 less your project $5,000 panorama +TW page = $180,000.
Year 2, 3, 4, 5 = + 4 years 185,000 = $740,000 and Year 1 + 180,000 = $920,000 total. OR just a little under $1 million dollars increase bottom line revenue for the hotel profits.
I am only suggesting a project price of $5,000. The hotel is making a little under $1,000,000 on your panoramas. Maybe $5,000 is a bargin for the hotel advertising. So only charge a small 1% (.01 percent) of the total additional 5 year revenue... say $10,000.
I am only a suggesting a pricing technique.
Here is a screen capture on a 24" monitor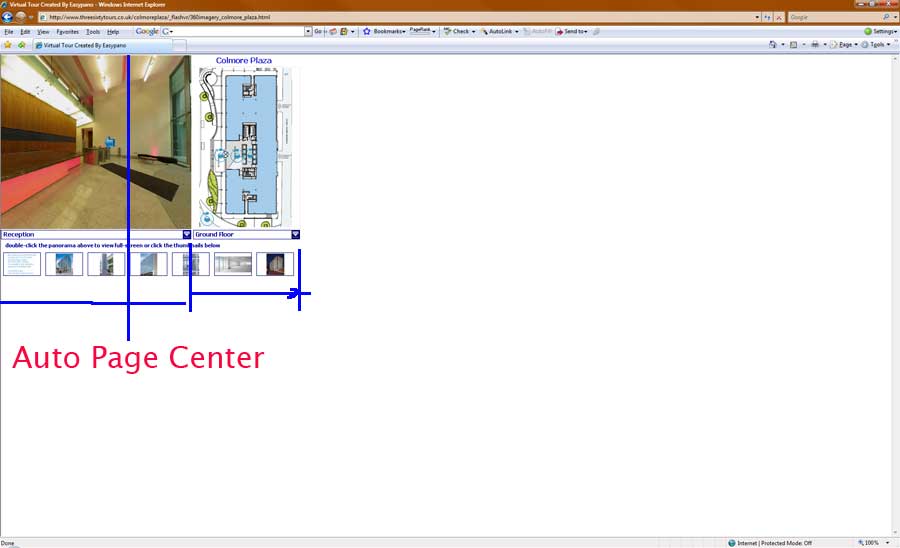 ---
/s/
Dave
Forum Moderator for
EasyPano - Panoweaver
Pano2VR

Visit 360texas.com