QuickTime VR Authoring Software
QuickTime VR (virtual reality) (also known as QTVR) is a type of image file format supported by Apple's QuickTime. It functions as a plugin for the standalone QuickTime Player, as well as working as a plugin for the QuickTime Web browser plugin, which can be used to create and view 360° panoramas or objects through images taken at multiple viewing angles.
Easypano has developed QuickTime VR authoring applications to create QuickTime VR content of both 360° panoramas and objects.
QuickTime VR Panoramas Authoring Software - Panoweaver.
VR Panoramas are panoramic images which surround the viewer with a virtual environment creating a feeling of standing inside the place and looking out. The panoramas can be stitched together from several normal photos or fisheye images taken with a circular fisheye lens, or captured with specialized panoramic cameras, or rendered from 3D-modeled scenes.
VR Panoramas can be either spherical (or cubic) or cylindrical. Spherical panorama covers a full sphere-like environment which reaches 180 degree vertically and 360 degree horizontally field of view. Cylindrical panorama does not include the top and bottom, so its vertical field of view is less than 180 degree. See following sample panorama images, and click to view QuickTime VR movies.


| | |
| --- | --- |
| | |
| Spherical panorama | Cylindrical panorama |
The above two VR panoramas are stitched and exported by Panoweaver. The spherical panorama is stitched from fisheye photos taken by Sigma 8mm fisheye lens and the cylindrical one is stitched from normal digital photos taken by Nikon D200 + 17-55mm lens. The photos are taken from the same nodal point, so the final QuickTime VR panoramas can show the virtual place at every angle, and you are just looking out from the same nodal point.
Download Panoweaver to create full screen QTVR panoramas!
QuickTime VR Objects Authoring Software - Modelweaver.
In contrast to Panoramas, which are taken from one nodal point looking out at various angles, objects are taken from many locations pointing in toward the same central object.
To get object VRs, turntable and tripod are necessary. Place the object on the turntable and capture photos at equal angular increments with camera mounted on the tripod.
With Modelweaver, QuickTime VR object can be created from either digital photos, or directly from camcorder. Click following to view QuickTime VR object movie.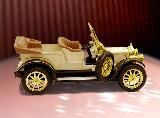 Note: To view QTVR, QuickTime 5.0 or later versions is necessary. Please visit http://www.apple.com/quicktime/download/ to download QuickTime player.
Virtual tour solution - Studio
Virtual tour authoring software - Tourweaver
Panorama software for flash - Panoweaver